Decking Strips
Specifications
Sizes
Available in strips of 50mm x 3mm thick.
Richco Decking Strips are screw fixed onto the existing decking through the pre-drilled holes, using screws for do it yourself installations.

Available standard lengths of 1000mm and up to 3000mm the product is ideal for the majority of decking areas and walkways.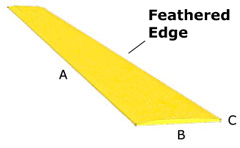 A - up to 3000mm
B - 50mm
C - 3mm thick